After writing a few successful articles about non-monogamy and polyamory and receiving some private messages in other forums asking for advice, I decided to try and start a non-monogamy advice column in January 2017. I produced fortnightly columns for two years as letters came in. I also got a Patreon for people who wanted to support the column.
💡
There has never been and never will be interviews on the podcast.
And in January 2019, I decided to launch a podcast version of the column, given I had got so many letters. Since then, I've had so many different chats with different people featured below.
In December 2020, I moved away from Medium (because of the paywall and difficulties it brought people to read every week), to my own website at nonmonogamyhelp.com.
In June 2022, The Anxious Person's Guide to Non-Monogamy was published by Jessica Kingsley Publishers.
For a good long while I have been working with Kathy Slaughter, LCSW who wrote the forward to my book. They were previously known as the anonymous therapist with 10 years experience I've worked with.
In December 2022, I released this new website design to improve speed on mobile.
In March 2023, I released another new layout because the last one absolutely did not improve the speed on mobile.
In August 2023, I moved to Ghost and got another new layout because WordPress was causing me huge indexing issues. So hopefully you enjoy the site!
About "the therapist"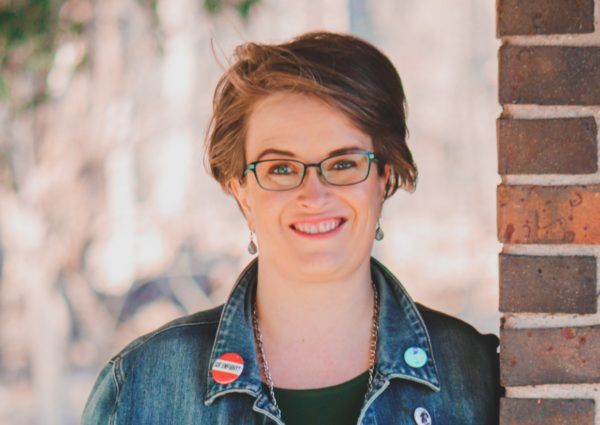 Kathy Slaughter, LCSW
Individual, Sex & Relationship Therapist
Kathy Slaughter loves watching people bloom, moving through painful life lessons and learning how to find belonging. Currently, they lead Soaring Heart Center, a values-driven, impact-oriented entity that offers talk therapy and coaching. In their off-hours, Kathy co-creates spaces where humans blossom at regional Burning Man festivals.
In presentations like Love Lessons from Open Relationships (a 2018 TEDx Talk, with over 300k views and counting) and many professional trainings, Kathy speaks with passion, fierceness, and the magic of compassion. They drop truth bombs with clarity and warmth.
In this way they help thoughtful, self-aware people struggling to connect with others learn they have the right to pleasure, agency, and love. By learning this, they can enjoy sincere and fulfilling relationships with themselves and others.
Kathy believes therapy and other forms of healing should bring you more in alignment with your core self, at ease in the world, and able to enjoy abundant love.
---
Interviews
Lola has done several interviews for a variety of other podcasts where they have talked about polyamory, given advice or discussed other issues. Have a listen below.
Lovecast 821
Savage Lovecast
Real Relationship Talk
Multiamory Podcast
The Anxious Person's Guide to Non-Monogamy
Multiamory Podcast
The Anxiety and Non-Monogamy Episode
They Talk Sex
Episode 83
Fifty Shades of Gender
My First Time: Polyamory
Fifty Shades of Gender
Episode 11
Queers & Co. Podcast
---
Podcast reviews
A few reviews from iTunes.
"You dispel so many myths about non monogamy and show people that having problems/ difficult emotions in non monogamous relationships doesn't have to lead to switching to monogamy." Natynatslol
"Finding this podcast has changed the way I think about non monogamy in such a positive and helpful way. I would go as far to say, it's changed my life for the better. And that's just not hyperbole! Keep up the fantastic work!" curiousfae
"This podcast covers a range of topics relating to polyamory in an open and honest way, with good advice on boundaries and handling difficult situations – well worth a listen 😊." bungle106
"Lola Phoenix's podcast is an excellent supplement to their book, "The Anxious Person's Guide to Non-Monogamy." They help readers and listeners to feel seen and understood, and to see their challenges as something they can get through. They offer a refreshing mix of skepticism, curiosity, caring, and hope." Justin Kalm
"Your podcast and columns are helping me feel comfortable and ready to become non monogamous. I have mental health issues and that's been difficult to manage along with becoming non monogamous. You have great insight and empathy while also being firm and blunt." Dragonblossom
"Your podcast and columns are helping me feel comfortable and ready to become non monogamous. I have mental health issues and that's been difficult to manage along with becoming non monogamous. You have great insight and empathy while also being firm and blunt." Dragonblossom
"I absolutely love this podcast. I wish there were more polyamory podcasts like yours because most of the one I've found are really boring and not as insightful as yours!" Kiwiiiii.1